In order to give punters and promoters alike a feel for the tracks I like to spin when I DJ, I have decided to pull together a few 'Top 10' lists (by the different genres), that I am interested in. To get things rolling, below is a list of funk 45s, that are always in my record bag and that I never tire of playing. The tunes in this list are not particularly rare and for the most part easily obtainable.

The tracks are listed in no particular order and include links to Youtube videos where can here them in their entirety. I have also added a little bit of commentary to explain why they have made it onto this list!
Voices of East Harlem — Wanted Dead Or Alive [Just Sunshine]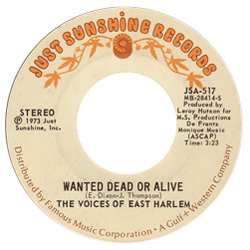 Any song that has soul legends Curtis Mayfield
and
Leroy Hutson on production & arrangement duties, stands a very good chance of standing out from the norm. And so it comes to pass with the first 45 on my list. This superb slice of mid-70s funky soul grabs you hold of you, right rom the horn-infused opening.
This track first came into my possession in the midst of the rare-groove boom in 1988, courtesy of a 'Low-Fat vinyl' 12" re-issue; before being replaced by the original 45.
The you can hear the track on YouTube
here
.
The Sisters Love — Give Me Your Love [Mowest]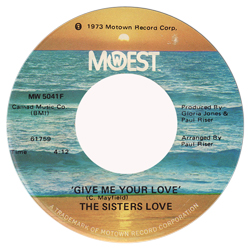 Covering Curtis Mayfield is one thing. But making a better version of one of his classic songs is a whole other ball game. Somehow, three former members of Ray Charles backing group, manage to achieve just that with this cracking cover version.
Released on a Motwon subsidiary label, this record has been in my possession since mid-2007 when I managed to find it for £15 in a now defunct London store called 'Vinyl Vault'. It is fair to say it had been on my wants list for a good few years, prior to that bit of successful digging.
To listen to The Sisters Love in full flow on YouTube, click
here
.
Maceo & The Macks — Across The Tracks [People]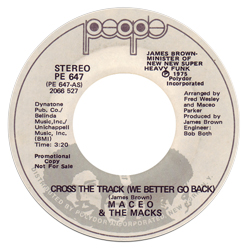 I would still assert, that almost 30 years after first hearing this tune, I would struggle to find one that kicks off with a better intro! It always rocked the floor in the rare groove era of the late 80s…and still does to this day.
As with a lot of others, my first vinyl copy was on the 12" re-issue put out by Polydor on the Urban label. It took a few years before I was able to track down this original 7" copy on the People label.
The full tune is available for your listening pleasure on YouTube
here
.
Eddie Bo & Inez Cheatham — Lover & A Friend [Seven B]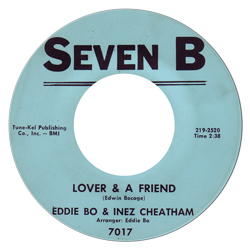 There is no way that a top 10 list of funk 45s tunes should not feature the (largely unheralded) legend that is Eddie Bo. A native of New Orleans, Bo never garnered the attention and recognition he truly deserved.
This duet with Inez Cheatham was featured on the DJ Shadow & Cut Chemist '
Brainfreeze
' mix and has pride of place in my funk 45 collection. The vocals of Cheatham drums of Bobby Phillips and Eddie Bo production results in a killer tune.
Check out Eddie & Inez on YouTube
here
.
Marlena Shaw — California Soul [Cadet]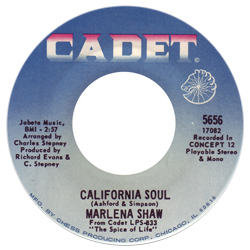 Having originally been released on the b-side of a Motown single by The Messengers, this Ashford & Simpson classic, has been covered numerous times. But the Marlena Shaw 1969 version stands head and shoulders above them all.
Not only is this is probably the most expensive 45 on the list, but also in my collection as a whole. I handed over more money than I normally would to add this to my collection, when there is a perfectly good re-issue on the Jazzman record label!
You can listen to California Soul on YouTube
here
.
Bobby Byrd — I Know You Got Soul [King]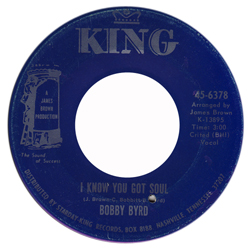 The second James Brown production on the list, stars his long-term co-hort Booby Byrd. Released in 1971, Although essentially a James Brown track with Byrd on vocals, it is the simple bass guitar riff that features throughout the track, that elevates this particular tune above numerous similar Brown-prodcued tracks.
This particular song came to my attention, courtesy of the 1987 hip-hop track by Eric B & Rakim, that not only liberally sampled it, but also used the same track title.
The you can hear the track on YouTube
here
.
Jackson Sisters — I Believe In Miracles [Prophesy]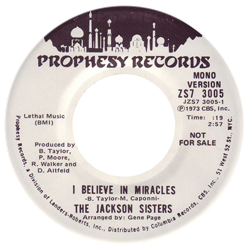 Originally recorded by Mark Capanni in 1973 as a mid-tempo soul tune, the five sisters (who were no relation to their more famous male namesakes) cranked up the tempo to turn-out a much funkier cover version.
Another sure-fire hit on the dance floor, that re-appeared as a re-issue on the Urban label back in the late '80s and was a massive hit on the London rare-groove scene. I still need to pick-up a copy of their equally superb 'Boy, You're Dynamite' 45, that was released the following year.
The Jackson Sisters can be heard on YouTube
here
.
Betty Wright — Clean Up Woman [Alston]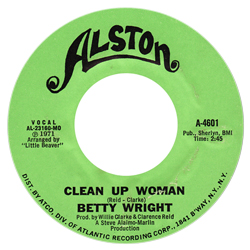 Sister Funk
tunes are invariably front and centre in my funk & soul DJ sets. A great female vocal over the top of a heavy funky beat, always seems to work. Top of the list of this sub-genre is this tune, which was released in 1971 and became a top 10 hit in the US hit for Betty Wright. Now, if only you could find songs like this topping the charts in 2015!
The 45 itself is a nice easy low-cost find on vinyl and can be picked up less than the cost of a lunch-time sandwich and coffee!
'Clean Up Woman' is available on YouTube
here
.
Aretha Franklin — Rock Steady [Atlantic]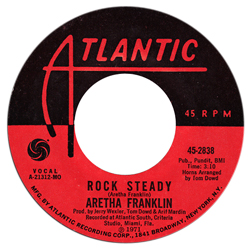 The artist for this particular 45 needs no introduction. The track itself was featured on her classic 1971 'Young, Gifted & Black' album. But when you have legendary musicians such as
Bernard Purdie
on drums and
Donny Hathaway
on the organ, you begin to understand why it had all the makings of a classic funk 45.
As with a number of tunes on the list, this is a b-boy classic that was introduced to me through listening legendary DJs such as Grandmaster Flash & Africa Bambaata.
Aretha can be heard singing 'Rocksteady' on YouTube
here
.
Jake Wade & The Soul Searchers — Searchin For Soul [Mutt]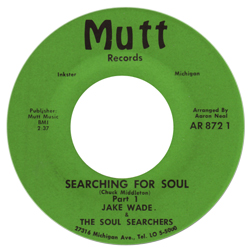 Drums, Drums, Drums! This raw and gritty funk instrumental is all about the drums, backed up by some superb horns and bassline. Released on a small label, this appears to be the only release from the band out of Detroit and is a nice illustration of little known regional funk 45s that vinyl addicts, such as yours truly, absolutely love.
Another 45 that came to my attention the ought
Brainfreeze
. In particular on the DVD where DJ Shortkut can be seen
here
cutting up two copies of this song to great effect!
The you can hear 'Searching For Soul' in all its glory, on YouTube
here
.